The 1290 Super Duke R "Smutty" !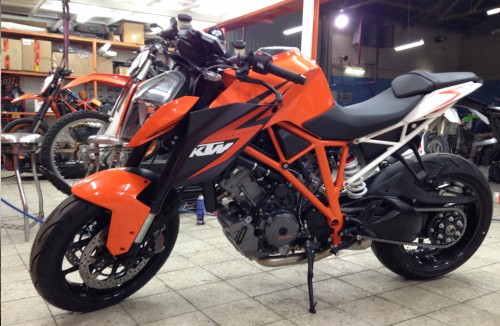 KTM calls it The Beast but i believe that name is over used and is very cheesy so I'm calling it Smutty ! I got a call a couple of weeks ago from my friend at K&S – KTM dealer in Kuwait- asking me to pass by to check out the 2014 lineup, he didn't say much but i knew he wouldn't call unless he has something really interesting to show. Anyway the next morning I'm on The 1290 Super Duke R -better known now as Smutty- fiddling with the electronics, the bike was the first and only one in the middle east. It is as cool as it looked in the pictures if not more and it also looked smaller. A fuel tank and two wheels attached to a 1300cc engine ! I did crank up the 180 horses -192hp with the Akrapovic exhaust- but i didn't get a test joy ride. I'm hopping i will get my test ride soon but with 180 horsepower and 106 foot-pounds of torque coupled with an adrenaline junkie, I'm not sure if I'll bring it back.
Along with the 192hp, Smutty comes with ABS, traction control, slipper clutch and ride-by-wire throttle.
Oh i was there with a friend – pictured below – who went home with a new 990R SuperMoto which i got to ride and its a hell or ride.