Hyperpro suspension upgrade kit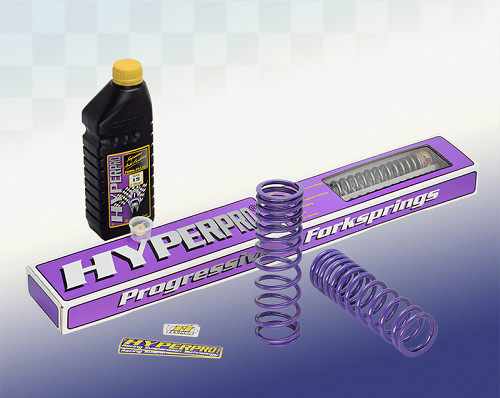 I never liked the suspension on my Ducati Sport Classic and always thought its just too stiff… am not saying its not good, its just not good enough. It doesn't give enough feel of the road, and since upgrading to Öhlins was way too expensive i decided to only replace forks internals, and the rear spring with Hyperpro combo kit.
Hyperpro is a Dutch company and one of the leading producers of motorcycle progressive suspension products, they are mostly famous for steering dampers, but they also produce complete shocks, front fork springs and height adjustment kits for alot of bikes. Progressive springs reduces the braking distance by 15 to 20 percent in comparison to a bike with linear springs, small bumps and irregularities in the road surface get absorbed immediately while large bumps or holes are intercepted by the more rigide part of the spring, this results in a bike that is faster on the circuit and safer on the highway.
It took almost 2 month for the kit to reach my Aramex box, and when it finally did Aramex refused shipping it because it had a bottle of suspension oil they also refused to trash the oil and ship only the springs, the only solution was to send the kit back to the supplier and ask him to ship it back without the oil.
Anyway the kit in now mounted on the bike, and it was worth the wait.. the bike feels like a totally different bike, the feedback from the suspension is so damn good.
I have always believed that one doesn't need Öhlins suspension on the bike unless one is doing track days, but after this upgrade i guess i was wrong.