Davide Tardozzi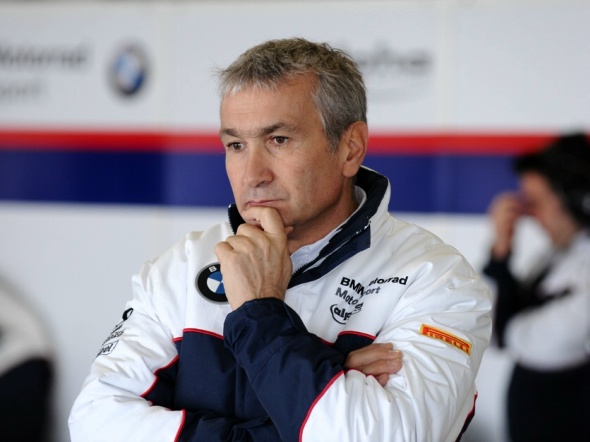 After retiring from racing in the Superbike, Tardozzi went on to be a team manager for the Ducati factory racing team, winning several Superbike World Championships with Carl Fogarty, Troy Corser, and Troy Bayliss.Tardozzi won eight Riders' Championships as a Ducati team manager, but at the end of 2009 Tardozzi left Ducati to join BMW and became the new team boss of the official BMW Motorrad squad in 2010(World Superbikes)
Davide Tardozzi speaks about his latest challenge with BMW Motorrad Motorsport
What is the key to being a successful manager?
To manage a successful team you need to be able to make people work together well. You can hire ten of the best mechanics but if they can't work as a team then the team will fail. Also, I think it helps to be very open with everyone – it is obvious for everyone around me to see and understand what I am thinking and how I am feeling. I always tell the truth and I am passionate about what I do.
What in inspired you to enter motorsport?
Ever since I was 13 I have been into motorbikes. I grew up riding and tuning 50cc machines and started to do crazy things on the road. This was very dangerous so I decided to go racing and found out I was quite good. Since then I became more involved in motorsport, both as a rider and in recent years as a team manager.
What did you dream of becoming when you were growing up?
I used to play soccer when I was younger but motorbikes have always been in my blood, although I never imagined that I would become a racer. I first came to the racetrack when I was 19 with a friend and really enjoyed it, but as is often the case, finding enough money was a big problem, so it was not so easy in the beginning.
Where did you grow up?
I am from Ravenna, which is close to Misano, Imola and Mugello, so within 100 km I had three racetracks, which makes it very easy to think about racing! This area has produced many great racers over the years and MotoGP riders like Marco Melandri, Marco Simoncelli, Mattia Pasini, Di Angelis and of course Valentino Rossi are all from a similar region as it has such a big motorcycle contingency.
Why take on the BMW Motorrad Motorsport project after so much success with Ducati?
To better myself. I have spent the last 20 years of my life working at Ducati – both as a rider and as a manager – so I wanted to prove to myself that I could achieve the same success elsewhere. I see huge potential with the BMW S 1000 RR project on so many levels. I think that BMW is the only manufacturer that can compete with Ducati in terms of brand appeal and brand image. BMW, like Ducati, is an emotional brand, and that's why I chose it, because what is racing without emotion?
How do you manage work and family?
I have a wife that has supported me as a racer and now as a manager – and fortunately she loves racing! I also have a 19-year-old son who is very supportive of my career but he has no interest in motorcycling at all. He is very passionate about soccer and plays for a team back home.
What do you do to relax?
In this job you're thinking about it 365 days a year, but away from racing I just enjoy spending time with my family. My work commitments mean I am often away but when at home I enjoy spending time at the beach by my house with my friends and family, as well as my two fantastic dogs.
With so much success already achieved, what makes you keep going?
The challenge. I love to constantly challenge myself whatever I'm doing and that's what keeps me going day after day, year after year. I always want something better today than yesterday and something better tomorrow than today. I love to win and I never want to stop winning – and that's the challenge. Valentino Rossi is a perfect example of this – he has won so much already; he doesn't need to keep winning, and he doesn't need more money, but he keeps going because he loves to win. He is battling with himself everyday to be the best he can be and that is exactly the same as me.