Ducati Profumo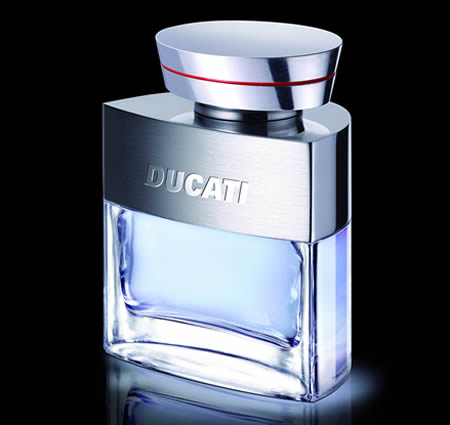 Two years ago Ducati presented Desmorosso the Ducati wine,  in 2006 Ducati designed the bottle of the Z ZEGNA perfume for Ermenegildo Zegna, and now Ducati launches its first male perfume.
Ducati presents its first male fragrance, masterfully formulated by renowned perfume producer Morris Profumi. Characterised with the main ingredients of 'design', 'style' and 'excellence' infused into the 'mix', the new Ducati-labelled fragrance is specially designed for those who are motorcyclists at heart, who love freedom and a life lived passionately without limits.

Ducati Fragrance for Men symbolises a motorcycling success story that has become legendary. As if encapsulating an expression of Ducati's DNA within its first fragrance, the mix hints of the natural and technological and suggests a refined interpretation of modern masculinity and natural charisma. The bottle design, in typical Ducati style, is sophisticated and yet without ostentation.

From the creative genius of Thierry de Baschmakoff, founder of Aesthete, comes the symbol of Ducati's essence. The modern style bottle with a compact form draws direct parallels to the stunning design with which Ducati motorcycles stand out from the rest. Refined, metal-like surfaces gleam and alternate with others brushed and opaque, while the cap, essential and asymmetric, blends both circle and ellipse as if tracing the dynamic movement of engine internals.

The fragrance itself has been formulated by the 'nose' of Symrise, Emilie Coppermann, blending the naturaland contrasting aspects of bergamot, grapefruit, juniper, fig leaf, nutmeg, vetiver, wood and musk, isolating the very best of the green, citrus and woody olfactory fragrances.

Man, his fragrance and his motorcycle in absolute harmony, enhancing the Ducati lifestyle to perfection. The line includes Eau de Toilette, aftershave and deodorant.