Open Invitation from Ducati UAE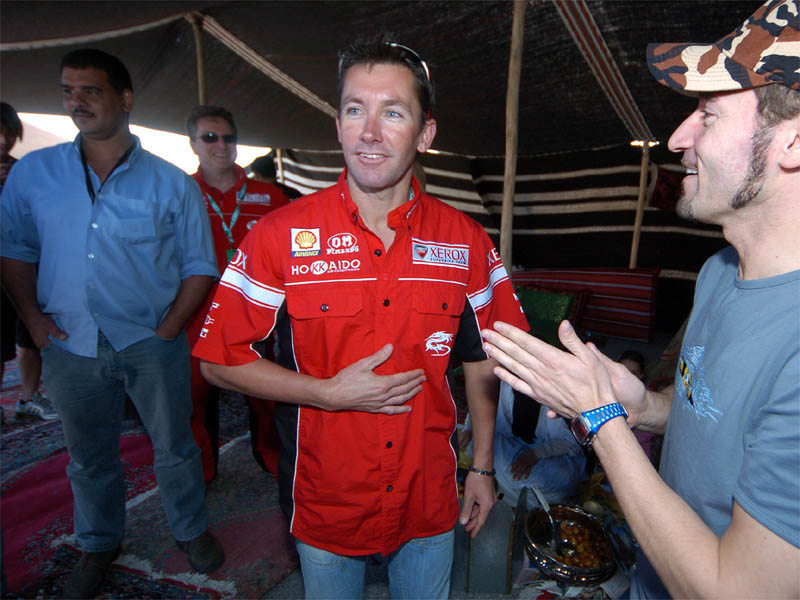 Dear Ducastiti and Ducati Enthusiast,

We are pleased to announce the opening of the New Ducati Showroom in Dubai on 22nd May 2010 at 5pm and would like to invite you to join us for this special event!

The New 3,000 sqft Showroom is dedicated to Ducati and to the Ducatistis. We have built a dealership with the latest store design from Italy with dedicated Motorcycles, Merchandise area, Parts & Accessories and last but not least with a state‐of‐the‐art workshop. Your new Home is located in Dubai's Motor City at the Grandstand, unit 1 & 2 opposite Spinney's. All the latest 2010 model year motorcycles and riding gear from leather suits and jackets, sliders, boots, body protectors to helmets with accessories as well as the casual apparel will be in the showroom waiting for you to be checked out. We will be offering Pirelli tyres supply and Shell oil for the motorcycles.

The 3 times World Superbike and Moto GP Champion, Troy Bayliss will be joining the Senior Management of Ducati Motor Holding Company here in Dubai to open the new Ducati Showroom on Saturday 22nd May at 5pm. This also means that you will have the opportunity to meet them.

From 5:30pm to 9pm, Dubai Autodrome's Race Track will be opened only for Ducati. We have secured the track for our Ducatistis. You only need to bring your Ducati motorcycle and your riding gear (full face helmet, full leather jacket and trouser and gloves) and to register by email to marketing@ducati.ae before 19th May, provide us with your name, contact number and motorcycle model (it has to be a Ducati). All registered riders will be given a time allocated for 22nd May and will be requested to come to sign the waiver and get the safety briefing before going on the track.

With Troy Bayliss being in Dubai for the Opening, we would like to give ONE Ducati Rider from the UAE the unique opportunity to have a 20 minute on track one‐to‐one session with Troy at 6:30pm on 22nd May. If you wish to ride on the track with Troy, please email marketing@ducati.ae with your name, contact number and your motorcycle's model. We will select one lucky winner via the "Tell a Friend" Campaign so the more friends you invite the greater your chance! The winner will be informed on the 18th May 2010.

Last but not least. The Worldwide acclaimed Multistrada 1200 S has finally arrived in the United Arab Emirates and will also be unveiled on the evening. Don't miss out on the opportunity to experience all this in one evening. RSVP to marketing@ducati.ae with your name, contact number, your motorcycle (if you're going on the track and if your wish to ride with Troy Bayliss).

We are looking forward to seeing you on 22nd May 2010 at 5pm in Motor City's Grandstand.

Ride Safe!