An evening at the Autodrom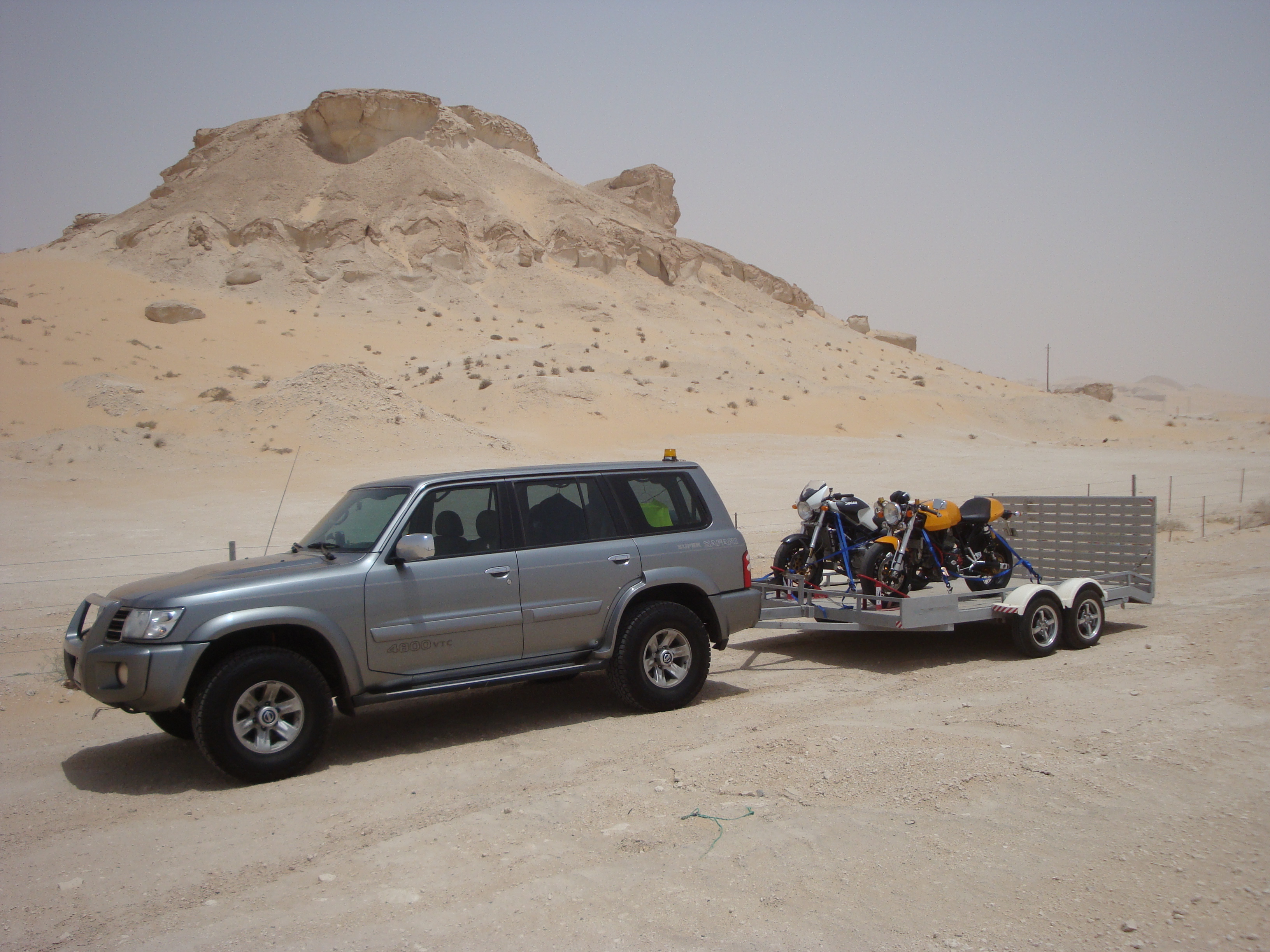 A couple of weeks ago we got an email from Ducati UAE inviting us to the opening of the Dubai showroom, we were also asked to register for a chance to win a one-to-one session with Troy Bayless.
We had the time so we decided to drive 1300km to Dubai, be part of the event, race our bikes at the Autodrom, and have dinner with Troy Bayliss.
I had some complications and i ended up flying to Dubai while my friend towed the bikes alone all the way to Dubai, and from the photo above i think he enjoyed the 1300km drive to Dubai 😉We arrived a day before the event so we partied all night, slept all morning, and had to rush to the track when we woke up, we did not even have any bite to eat..
The Ducati showroom is at the track premisses!!! a small nice showroom with a good collection of bikes but not much of apparel, we couldn't find a leather race pants, and prices were a bit high compared to the Kuwait.
Organization of the event was not as we expected, no PR person from the organizer side to welcome the guests and guide them, we had to run around and ask here and there to find out were to go and what to do, but finely we did it…our bikes and riding gear were checked, attended a 10 min safety briefing, and we became track ready.
My friend Mohammed needed a leather pants and we couldn't find one at the couple of shops we visited, he was about to give up until we met Mustafa the Turkish dude that won the one-to-one  session with Troy Bayliss…Mustafa was complimenting us on the work we did on our bikes and he knew that Mohammed wont be able to race today beausce he had no riding pants so he insisted on giving Mohammed his new pair of leathers to use.
The weather was so hot and so humid that we couldn't even breath, and not eating anything that day only made it worse…we were so tired and out of energy that we wanted to just skip the whole event and just go find an air-conditioned place to have a big meal.
But once on the track all that tiredness disappeared, the 20 minutes sessions were flying as if they were only 2 minutes, we had great time on the track and for the first time the tires on my bike are without the Chicken Strips.
Unfortunately we had to skip the dinner with Troy Bayliss because, we were exhausted…we needed help taking off our riding gear, and strapping the bikes to the trailer.
The good news is that we left our bikes in Dubai because we will be going back next Monday Tuesday for another track evening, so if anyone is interested in joining us please don't hesitate to let us know.