One woman, one motorcycle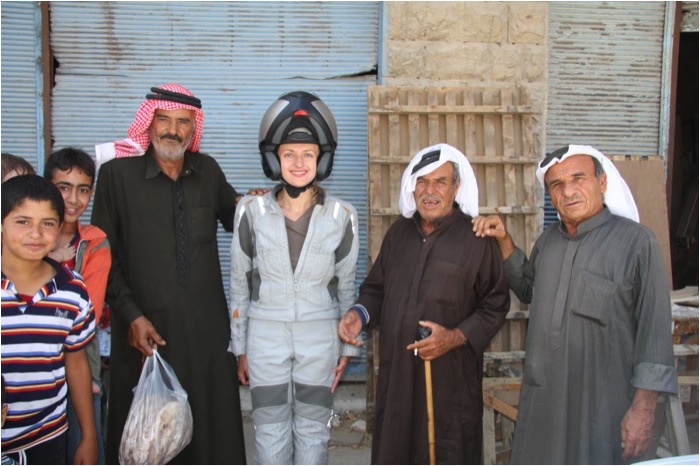 For the 30-year-old Ania Jackowska, who travelled from Poland to Croatia, Portugal and the Middle East on two wheels, mascara is an important accessory. "I have to take care of my motorcycle, of course, but I also have to look after myself. I'm a woman and I don't want to forget that while I am travelling," she says. "I always take a short dress with me, too, even though I probably won't wear it, but just to remember that I am a woman!"
Ania is a solo long-distance motorcycle rider, and went on a 10,000km journey through the Middle East in 2009, in which she explored Damascus, Jordan, Amman, Petra, Aqaba, Syria and Turkey.
"In Islamic countries, it is necessary for lone female riders to forget they are a woman and not expose their sexuality," she says. "You can smile to other people, but you can't giggle and laugh too much. You can be kind, but not too kind. You have to remember the cultural differences all the time in order to travel safely."
As a graduate of Warsaw's University of Social Psychology, Ania is keen to explore the cultures of other countries during her travels. And the best way for her to do this is on her BMW F 650 GS motorcycle. "The people I encounter are very welcoming to a lone woman motorcyclist, especially Arabic people," she says. "Often I would stop to take a picture and start talking with people. Before long, they invited me into their homes to drink tea and have something to eat. By the time I left, my motorcycle was packed full of delicious food."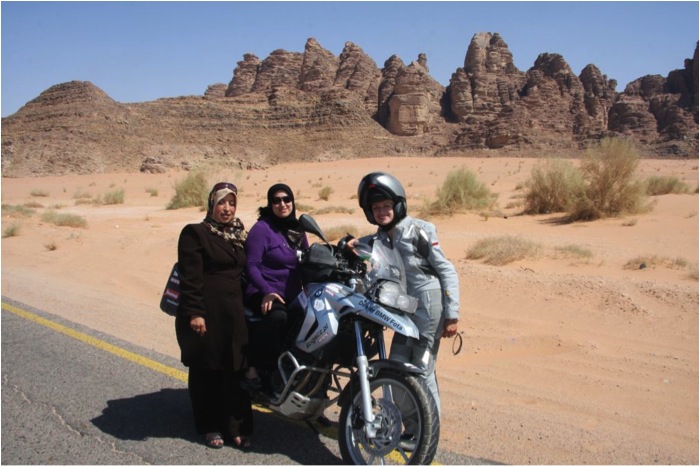 Travelling alone gives her the freedom to spend as much time in one place, take as many photographs as she wishes, and gather information for her blog and books. It also increases the likelihood of chance encounters and unexpected situations, on which she seems to thrive. "I have no rules, I can ride for two hours, or 12 hours, if I need to," she says. "I never make reservations at hostels or hotels, because I don't know when I'm going to arrive. But distance and hours are not important to me. Contact with people and culture is my goal."
Although motorcycling itself is not the aim of Ania's travels, it is nonetheless an important part. In fact, she regards her BMW F 650 GS as her travelling companion, often referring to it as a person in her book. "When you travel alone, you have to talk to someone," she says, laughing. It also doesn't seem so uncommon, as she explains: "I received an email from one of my readers, who said I think it's great that you talk to your bike while you are travelling because I talk to my bike too!"
Aside from good company, there are a few other reasons behind her choice of the BMW F 650 GS. "I need the best motorcycle when riding alone, and I can rely on it," she says. "It's good for riding through cities and for touring – it's perfect." Supplied by BMW Motorrad Poland, her motorcycle will soon be taking her through the Balkans for her next project in June 2010, followed by a trip to Mexico in 2011.
Undoubtedly an inspiration to female motorcyclists all over the world, Ania has some sound advice for those who would like to follow in her tracks. Although her first trip was a 3,500km journey from Poland to Croatia at the age of 22, she advises others to start small. "Don't feel like you have to begin with one long journey," she says. "Start with small steps and check if you feel comfortable travelling alone, and then you can take it further."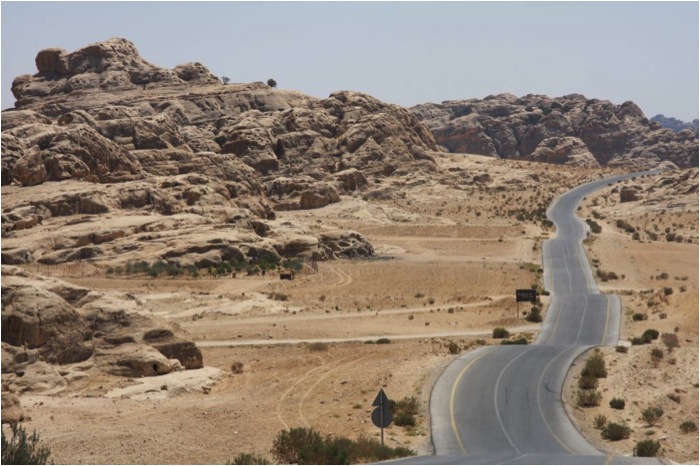 From BMW PR support.