Pirelli Diablo Corsa III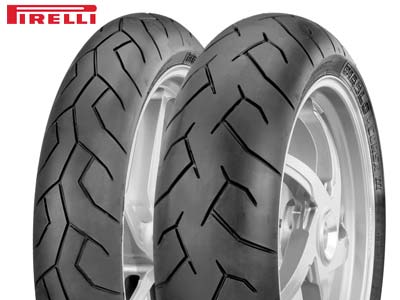 I'll just replaced the OEM tires of my K1300R with these Pirelli Diablo Corsa III, the OEM tires only have only around 3000 on them and they can still take another 2000km i think, but i need fresh tiers for my trip…tires that have a great grip and would last me the whole trip.
The Pirelli Diablo Corsa III is developed for both street and racetrack use, it's a multi-compound tyre that offers the same pleasure of riding on tracks, and gives decent mileage levels on normal road use. The rear tyre is made of two compounds: a softer compound on the shoulder for perfect handling and corner grip, while the harder compound in the middle for better mileage levels.
Pirreli claims "it delivers performance as soon as you need it; confidence on normal roads and top performance on racetracks; improved corner entry while still braking hard" .
Since most of the riding we do in Kuwait is on straight roads the tires tends to wear unevenly….most of wear is on the middle section while shoulder wear is minimum and we end up with a square tire.
I got the tires from the Pirelli dealer.. they are running a 25% discount offer on both car and bike tires with free installation and balancing…but i chose to have TriStar install them, as they are the only ones i trust with my bike.
Unfortunately i couldn't document the goodbye burn-out with the old tiers as it would void the bike's warranty.