Ducati got Apped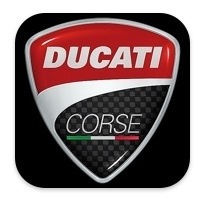 A lot of brands have already jumped on the iPhone apps wagon, Ducati just made the move and they've  just launched their iPhone app and this is what they say about it:
Find out everything you need to know about the Ducati MotoGP Team with Valentino Rossi and Nicky Hayden and hold all the secrets of the Ducati Desmosedici in your hand. Receive rapid updates on races, results and championship standings in addition to all the latest trackside news and a wealth of information from the world of Ducati.
Experience the MotoGP championship whenever you want and wherever you want with the new Ducati Corse app.
Download it for free and you'll have constant on-the-go access to:
– News, events and facts from the Ducati MotoGP Team pit garage
– Ducati rider profiles and Desmosedici GP11 data
– Extensive image gallery with many photos to download and share
– MotoGP championship calendar and constantly updated results and standings
– Tons of extra content from the world of Ducati