Fast Stoner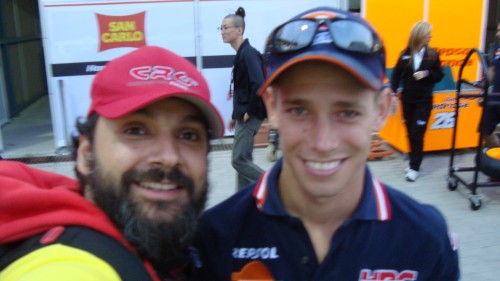 Its nice to be home after spending the past 3 days at the track, i enjoyed the 8-10 hours i spent daily at the track..the action and excitement makes you lose track of time and only when you get back to the hotel you realize how damn tired you are.
The race was nice and Stoner was too fast for everyone, although at some point Pedrosa scored faster lap times but he couldn't keep the pace. Either coming out of a curve or flying down the straight, the acceleration and the speed of Stoner was way faster than any other bike at the track and the real thing is way quicker than what one see on TV.
A nice battle between Rossi and Ben Spies took place for almost 4 laps at the same curve but Spies finally managed to overtake the Dr.
I believe the  2011 season is going to be great and we might witness a thrilling  battles between the Repsol team teams just like Yamaha team mates battles back in 2009.
Next race is in Spain on April 3rd .