البنغالي وصل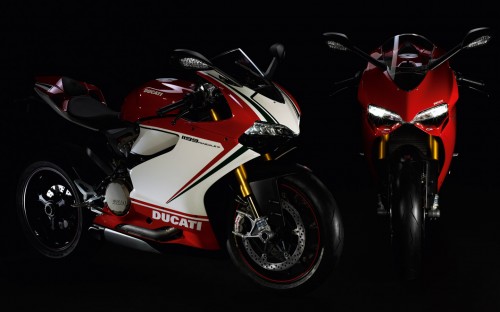 Duacti just released all the details of the new 1199 Panigali, the bikes weighs 164kg -dry- and has a weight distribution of  52% at the front and 48% at the rear becomes an optimal 50/50 with the rider on it, ensuring maximum stability and agility of the bike. The Superquadro engine designed to be a fully stressed member of the chassis and its is the most powerful twin-cylinder production engine on the planet. It produces 195hp and torque to 98.1 lb-ft (13.5kgm) with user-friendly Riding Modes that deliver that power appropriate to the rider's style and environment.
Each Riding Mode is pre-programmed to instantly change the engine's Power Mode and the suspension set-up in addition to ABS, DTC and EBC levels – even while riding.
More details The bike got a new six-gear transmission  with a "wet", oil-bath clutch based on the design of the Multistrada and Diavel components, the clutch assembly features a "slipper" function and a progressive self-servo mechanism that compresses the friction plates when under drive from the engine. While enhancing frictional efficiency, this also results in a rider-friendly light clutch lever "feel" at the handlebar. Conversely, when the drive force is reversed (over-run), the mechanism reduces pressure on the friction plates, enabling a true racing "slipper" action, reducing the destabilizing effect of the rear-end under aggressive down-shifting and provide a much smoother feeling when closing the throttle or down-shifting under normal riding conditions
The Panigale S and Tricolore are fully equipped with front and rear Ducati Electronic Suspension (DES) system by Öhlins, both the 43mm Öhlins NIX30 forks and the Öhlins TTX36 rear unit are electronically adjustable in compression and rebound, while spring pre-load is manual. Its also equipped with Brembo's Monobloc M50 callipers, with its extremely compact design it sheds 0.5kg of the weight, the calipers are machined from a single piece of alloy to achieve a higher rigidity and resistance to distortion during extreme braking.